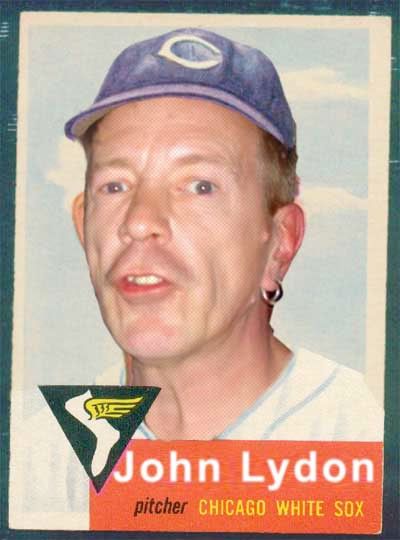 From the website glyphjockey.com;  check it!
If there's one thing here at Pogo H.Q. we like better than old-skool punk, it's baseball.   And for lack of anything better to blog today, and grasping at straws trying to figure out how to give a plug to the best baseball blog ever — DrunkJaysFans — here's some factoids for you to chew on.
On the day the Toronto Blue Jays came into existence — January 27, 1977 — The Sex Pistols broke up with temporary label EMI.   Four days after The Last Pogo happened on December 1, 1978, Toronto Blue Jays outfielder Vernon Wells was born.   Two days before The John Cale Band made their first appearance in Toronto at The Garys' New Yorker Theatre, the Blue Jays traded Dave Roberts to the San Diego Padres, and two days after Cale's gig, minor leaguer Mike Weathers was sent a-packing to the Oakland A's.    The first game the Jays played at the old and breezy Exhibition Stadium in April of 1977, was against the Chicago White Sox, who according to the Internet, had a pitcher called John Lydon as pictured above.  Because you have to believe everything that's on the Internet.
Check out DrunkJaysFan; in yer face, salty language, and right on.  Just like our favourite punk bands.   And for hours of entertainment and groovilicious graphics and pics, check out Glyphjockey.   Loads of fun, and lots more fake baseball cards featuring the likes of Sid Vicious, Ray Davies, Ian Dury and more.  Waaaay cool.
And now, for all of you who were too chicken to use PayPal and too lazy to go to the bank for a money order, you can now pay for a copy of The Last Pogo DVD using cold, hard cash — as long as it's cleverly concealed.  So buy one already!   Twelve lousy bucks!
And go you Jays.