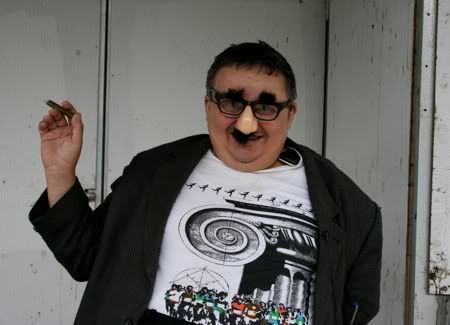 Lance Charles channels the spirit of Groucho Marx.
We dialed up the Wayback machine to 1973, and in front of the decaying Roxy Theatre, at Greenwood and Danforth, just 246 giant steps from the Greenwood subway station in Toronto,  The Last Pogo Jumps Again directors Brunton and Paputts, along with new Pogo crew member Joe Krumins spent some time with David "Lance Charles" Glincman.
For those of you who remember The Original 99 Cent Roxy, you couldn't forget Lance.   When Gary Topp ran the Roxy back in the early/mid seventies, Lance was one of the Roxy irregulars, another eccentric who hung out there and took in the music and movies.  The Roxy was one of the main seeds of the punk scene in Toronto, where people were turned on nightly to movies and music they'd never seen or heard before.  Along with a rep for being at the forefront of what we used to call the "underground", (remember that?!) the Roxy was infamous for being the place in Toronto where it was cool to smoke dope and take psychedelics.   Add up those elements, and its no wonder Raving Mojos' frontman Blair Richard Martin called the Roxy "The place where I learned to be cool."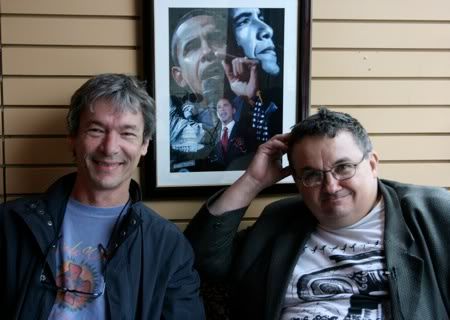 Colin Brunton, Barack Obamas, and David Glincman in the Obama Cafe.

Like many of the artists and characters we've interviewed for this project over the past few years, Lance could not say enough about the cultural impact that Gary Topp has had on Toronto, citing the introduction to Toronto audiences of films like El Topo and Holy Mountain and Zachariah (which he has somehow found a DVD version of) and bands like The Police and The Ramones and on and on.  Clearly, Toronto wouldn't be what it is now without the cultural guidance of Mr. Topp.
Back in those early seventies, whether it be an all-night movie marathon or a weekend night, 500+ stoned cinephiles would wait in a line-up that would snake around the corner, and they would often be entertained by Lance, with a fake nose and glasses, doing a manic imitation of Groucho Marx.  His audience, the line-up, would either react by crying with laughter — or screaming in anger.  And that's pretty cool.   Lance would also introduce movies to the stoned audience:   bottles would fly, tears of laughter would drip to the sticky floor, and Lance would pop in and out from behind the glorious drapery that covered the screen.  There was nothing quite like being looped on organic mescaline and witnessing Lance in all his glory.
Lance kept up the friendship (although there was a brief ugly period when Roxy co-operator Jeff Silverman "banned" him from the theatre.  One night during the screening of a flick, the sound was interrupted by Jeff's voice booming over the p.a. system:  "Lance Charles.  If Lance Charles is the audience, please leave the theatre now.  Lance Charles, please leave the theatre now."   According to Lance, that momentary battle was won due to an intervention by Gary, and he stayed to enjoy the films.)  He hung out at Gary Topp's next venue, The New Yorker and then the Horsehoe and after that The Edge.   These days Lance calls himself a journalist, and enjoys his apartment on the waterfront and going to the movies.  On the back of his business card it says:  "I use words and I don't know what they mean."
Invited by Gary Topp to be a guest emcee at The Last Pogo, Lance didn't make it the first night (The Last Pogo), but did manage to make an appearance the second night (The Last Bound-up), and introduced Drastic Measures and his favourite band from the time The Everglades.   One of Lance's proudest moments was when Stephen Davies and others from The Everglades came to watch Lance Charles Rocks perform at the old Cabana Room.
Today we spent a couple of hours with Lance, our lengthy interview broken up by a breakfast break at the Obama Cafe, and it appears as though Lance hasn't changed a bit, albeit a bit…uh…stockier.  He told naughty stories, drifted off into wild tangents, and belted out an original tune  ("Hookers are a Loser's Best Friend") to the shock and/or amusement of passersby on the Danforth, and then sang a couple of more tunes in the restaurant during the breakfast break (and with the regular cook away for the day, worst breakfast ever!) He recounted seeing Breathless and Nash the Slash perform at the Roxy, counted Greg Godowitz and Bob Segarini as fans, and spoke of what it meant to be Lance Charles.
"I didn't need drugs.  I was Lance Charles.  People would smoke lots of pot hoping to become like me, but there was only one Lance Charles.  Everyone wanted the Lance Charles vibe," he told us.
One vivid memory director Colin Brunton had of Lance was being invited, along with Silverman and Topp, to see Lance Charles Rocks perform their first gig.  Specializing in performing for children, his debut gig was in front of a class of second-graders in a ritzy private school up near the ritzy Bridle Path.  Brunton recalls the band performing Bryan Ferry's The In Crowd, Lance getting a few of the lyrics mixed up  ("Talking trash, making trash…")
And for those of us who were big fans, at the tail-end of the interview, he donned his trademark fake nose and glasses and treated us to his imitation of Groucho.
Today's interview was one of the most entertaining yet;  Lance has still got that supreme Lanceness, and for ten-minute stretches at a time, Brunton and Paputts were crying with laughter.   And let's be clear:  if you were in on the joke, you were always laughing with Lance, not at him.   Toronto is a much richer place because of the likes of him.
New crew member Joe Krumins summed it up well:  "Wow.  I've sure never filmed anyone like that before."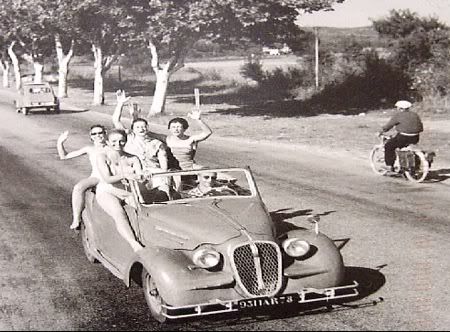 Coming next week: Roadtrip!   Kire Paputts and his father Chris Haight drive to Phillie to interview Toronto punk icon Freddy Pompeii on Father's Day. Hey-o!