Homemade pin courtesy of Deirdre Wear
A G-Man came to the door of Pogo H.Q. today and hand-delivered a package from the hinterlands (east coast) that contained a bunch of cool jpgs of photos 'n' stuff, so a big thanks to Deirdre Wear.  If anyone out there reading this is in the mainland Maritimes, and you've got a nice video camera, etc., give us a buzz — Deirdre has shared some great stories with us via the Internet Machine, and it would be cool to get her on tape.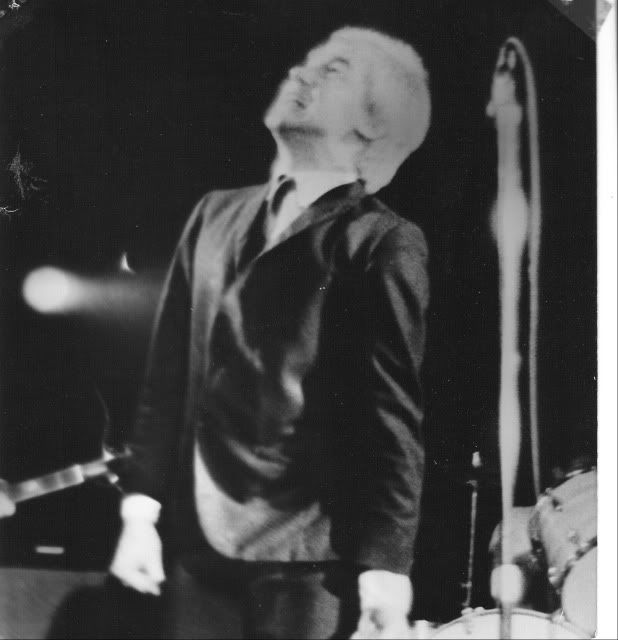 The Mods, back in the day;  photo Dierdre Wear.
There might be a few tickets left for the show this week at Sneaky Dee's in Toronto:  The Ugly, The Mods and The Superstitions, with DJ O.P.P.   The fun starts at nine.   Founding Punk Godfathers Steve Koch, Tony Torture, Sam Ferrara and Greg Dick (in lieu of the late, great Mike NIghtmare) are The Ugly, and all of the original members of The Mods — Greg Trinier, David Quinton, Scott Marks, and Mark Dixon — will be there.  Word on the street is that first band up The Superstitions will be taking names and kickin' ass.   And if that ain't enough, DJ O.P.P. will be spinning gold on turntables.   Plus beer, old friends, etc.
Dierdre Wear, back in the day, courtesty Dierdre Wear.
This weekend's gig with The Ugly, The Mods and The Superstitions coincides with the third birthday/whatever of our work-in-progress The Last Pogo Jumps Again.  It was three years ago we got the idea to start hunting down all the bands and fans from the early punk days in Toronto, and our first day of shooting was June 6, 2006 (for those keeping satanic score, that'd be, weirdly, 6/6/06.)  We're still going strong-ish.  There's still a bit of shooting to do — what would a film about Toronto punk be without so-and-so and whats-her-name — and we continue to collect jpgs of photos, while flaunting the dvd of the original movie that ultimately spawned this one, The Last Pogo.   Big thanks to everyone out there who's been sending in stuff and lending a hand.