Steve Koch with The Ugly at The Last Pogo 30th;  photo Ross Taylor.
In the late seventies, being the only punk in Calgary (although he'd find out later there was this other guy called Warren Kinsella skulking around the south side) made Steve Koch feel as though people thought he was either (a) dangerous, (b) developmentally challenged, or, most likely (c) a little bit of both.
He sent a fan letter to New Rose in Toronto, the punk music and clothing store run by Margarita Passion and (original Viletones guitarist) Freddy Pompeii, and asked for a copy of the single by this new Toronto band called The Viletones.
Punk records were hard to find in Calgary, but if they did surface, were usually found in the "delete" section, so as far and few between as they were, they were at least cheap.  But there just weren't enough for Calgary's Only Punk, and Calgary was…well…Calgary, and hence the letter.   Don Pyle, all of fifteen or so, wrote him back.  (Don, of course, besides being a great photographer and cool dude, would later form Shadowy Men on a Shadowy Planet and continues to make music, art, and produce for other people.  He spent a lot of his formative years hanging out at New Rose.)   Don mistakenly addressed the letter to one John Koch, who didn't exist at the Calgary Koch residence, and so the letter sat on the stoop for a few weeks until a curious Steve held it up to a light, saw that it contained… a paper airplane, and decided to open it up.  And that was the start of a friendship that continues to this day.
So it was that in '78 that Steve Koch decided to get the fuck out of Dodge, and after a non-stop seventy-hour drive, he and a couple of buds arrived on the doorstep of Don Pyle, who, with parents conveniently out for the night, let them crash on the couch and floor.   The next thing ya know, Steve and Don form Crash Kills Nine, and after giving that name to the late Reid Diamond (on the condition the number changed;  it did, and became Crash Kills Five) Steve auditioned as the new guitar-slinger for The Viletones, and won them over with his take on the Dead Boys' classic Sonic Reducer.   Quickly earning a rep as one of Toronto's better players, Steve would later play with Handsome Ned, The Demics and lots more, and has continued to bang out music on a regular basis, currently as a member of both The Screwed and the 2009 version of The Ugly.
Any last words on punk rock?
"Buy the CD."
And parting advise for any aspiring punks?
"Don't buy the CD."  BAM!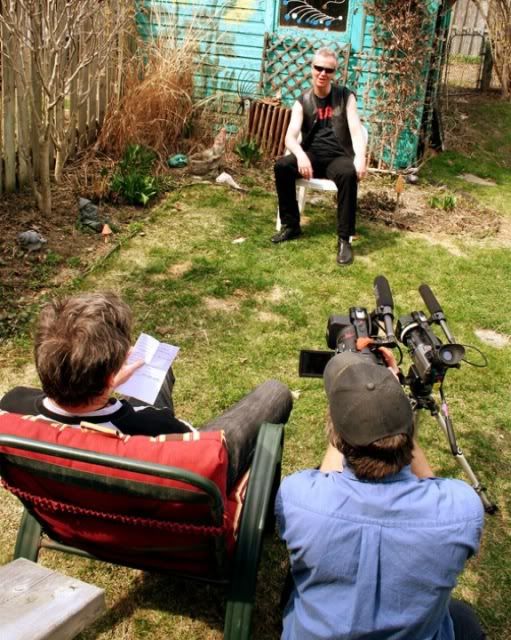 The Last Pogo Jumps Again shoots Steve Koch;  photo Ross Taylor
We got to hear (and record) all these stories over a couple of hours on a sunny Saturday afternoon, with Tea and Sympathy (coffee and an ashtray) provided by Steve's wife Max (no, she's not a dude, dude, she's all woman, as in va va va voom) — and a half-dozen scrapbooks dating back to '76 provided by photographer Ross Taylor, who's continued to photograph all things punk for over thirty years now.  (Awesome collection, Ross;  good work!)
Back in the seventies Ross was a member of Cheap Thrills, the ticket subscription thingy that for a yearly fee gave him fifth row centre seats at the old cavernous and smoky Maple Leaf Gardens, and so Ross went to everything.   As Steve turned the scrapbook pages on prog-rockers and sixties relics that frankly are too embarrassing to mention (although Pogo director Brunton owned up to once being a fan of Jethro Tull, Pink Floyd — did anyone not go to see that show in Hamilton in '75? — and Yes) you could see on the yellowed brittle pages how it all changed around '76, the pages getting jammed with the likes of Ramones, Dead Boys, Iggy Pop, New York Dolls, Dictators, Lou Reed — and loads on Toronto's own nasty darlings, The Viletones.
You can catch Steve playing with The Screwed every other week or so, and on June 6th head down to Sneaky Dee's in Toronto where he'll by playing as a member of The Ugly, with original members Sam Ferrara and Tony Torture, and Greg Dick filling in for the late great Mike Nightmare.   Get a sneak preview of what these guys sound like by tuning into CIUT-FM on Sunday, May 31 at 10:00 where they'll play a couple of tunes, and then sit down for a chat.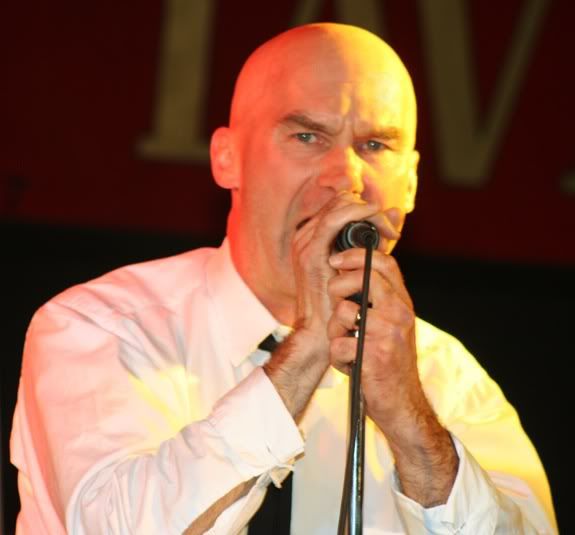 Greg Trinier of The Mods, The Last Pogo 30th, December 2008;  photo Ross Taylor
Sharing the bill at Sneaky Dee's will be another of the original Toronto punkers, The Mods, sporting the same line-up, same tunes, and same sharp sartorial stylings as they did thirty years ago.  And if that ain't enough, a new band (who Dick says are great) called The Superstitions open the show.   And if you're still not convinced, in between bands and beers be treated to old-skool tunes spun by D.J. O.P.P., a.k.a. Peter Genest, the legally beleagured owner of Hits 'n' Misses.