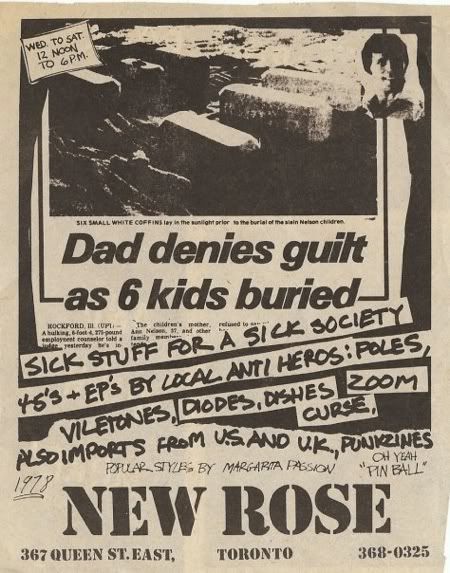 This handbill for the punk music and clothing store New Rose was sent to us by Margarita Passion, who owned it with original Viletone Freddy Pompeii.   A favourite hang-out for all the young dudes.  This poster was designed by Freddy himself.   Both Margarita and Freddy are living in Phillie these days;  we've got interviews of the both of them for the new film, but Freddy's was done in an extremely noisy bar, and while we're usually all for smashing bottles and screaming profanity, Freddy's chatter is hard to hear, so we may have to bring the Pogomobile down there this year to redo it.
THE LAST POGO (1978) is still in indie record stores around the world, and available on-line at our Store link for a mere $12.00.  There's a new review in the way-cool blog from Holland, Here Comes The Flood (look it up!), and soon a review in Tiny Mix Tapes, one of the most entertaining sites we've come across since discovering The History of Staplers a few years ago.   Crossing our fingers that our movie gets picked to play SXSE;  we'll know soon.
Mickey de Sadist of The Forgotten Rebels from The Last Pogo Jumps Again; photo by Edie Steiner.
THE LAST POGO JUMPS AGAIN (2009) is deep into editing, with just a few more interviews needed.   We've been getting tons of jpgs (and looking for more) from Imants Krumins and Gail Wetton;  co-director Aldo Erdic has sent us some old ticket-stubs (including that beauty above from 1974);  a couple of pieces from Gary Topp and Erella Ganon — and we've been enjoying some of the dvds sent to us by Steven Leckie and Suzanne Naughton.
Steven Leckie from The Last Pogo Jumps Again;  photo by Edie Steiner
Filmmaker Peter Vronsky has generously offered us footage from some of the stuff he shot in the late seventies, most notably the crowds outside and in the lobby of The New Yorker on September 24, 1976 when The Ramones hit town for the first time.