It's been a rotten few months in the world of old-skool punk.  In October, Teenage Head singer Frankie Venom died from throat cancer;  in January, Stooges' guitarist Ron Asheton passed away from a heart attack, and today Lux Interior, frontman of ground-breaking psychobilly punk rockers The Cramps died in an L.A. hospital from a pre-exisiting heart problem.  His wife and original guitarist Poison Ivy issued a statement today.
We here at Pogo H.Q. were fortunate enough to see The Cramps in action in 1977 at NYC's Max's Kansas City, and later at the Horseshoe Tavern in Toronto.  Totally entertaining, frightening to those who didn't get the joke, and incapable of a dull moment, The Cramps were fun and rocked, playing punked up rockabily with straight-faces and tongues slightly in cheeks, murdering it with the same intensity that The Gun Club inflicted on the blues (a common denominator of both bands being guitarist Kid Congo Powers.)   One of the many bits of memorabilia that we've lost over the years was the original Cramps' business card, a campy '50'ish card with the phrase "Will play weddings and parties!".  We fondly remember  Lux Interior in Toronto, ripping down the handmade sequined horseshoe (that Gary "The Garys" Cormier's then wife Martha Harron made) stitched to the backdrop of the stage at the Horseshoe, and legend has it, getting it on with one of The Curse in a gutter near the Crash 'n' Burn.  Good times.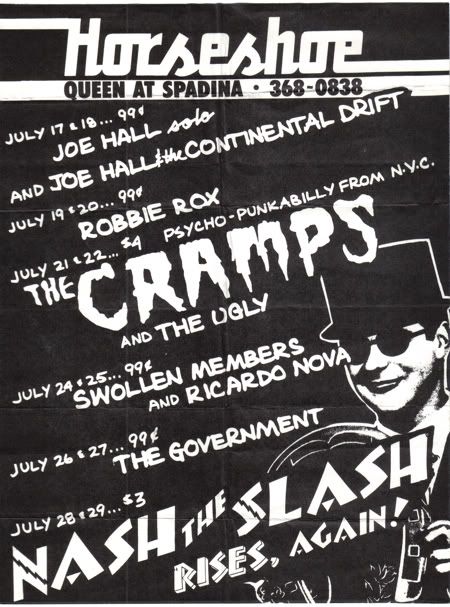 July '78 Horseshoe handbill by Colin Brunton; courtesy Imants Krumins
Ripped off from MTV:
"Born Erick Lee Purkhiser, Interior started the Cramps in 1972 with guitarist Poison Ivy (born Kristy Wallace, later his wife) — whom, as legend has it, he picked up as a hitchhiker in California. By 1975, they had moved to New York, where they became an integral part of the burgeoning punk scene surrounding CBGBs.
Their music differed from most of the scene's other acts in that it was heavily steeped in camp, with Interior's lyrics frequently drawing from schlocky B-movies, sexual kink and deceptively clever puns. (J.H. Sasfy's liner notes to their debut EP memorably noted: "The Cramps don't pummel and you won't pogo. They ooze; you'll throb.") Sonically, the band drew from blues and rockabilly, and a key element of their sound was the trashy, dueling guitars of Poison Ivy and Bryan Gregory (and later Kid Congo Powers), played with maximal scuzz and minimal drumming.
Because of that — not to mention Interior's deranged, Iggy Pop-inspired onstage antics and deep, sexualized singing voice (which one reviewer described as "the psychosexual werewolf/ Elvis hybrid from hell") — the Cramps are often cited as pioneers of "psychobilly" and "horror rock," and can count bands like the Black Lips, the Jon Spencer Blues Explosion, the Reverend Horton Heat, the Horrors and even the White Stripes as their musical progeny.
Over the course of more than 30 years, the Interior and Ivy surrounded themselves with an ever-changing lineup of drummers, guitarists and bassists, and released 13 studio albums (the last being 2003's Fiends of Dope Island). They also famously performed a concert for patients at the Napa State Mental Hospital in 1978 (which was recorded on grainy VHS and has since become a cult classic) and appeared on a Halloween episode of "Beverly Hills, 90210." Their video for the song "Bikini Girls With Machine Guns" also drew rave reviews from Beavis and Butt-head on a memorable episode of the show.
Despite the band's long history, fans generally agree that the group's peak was in the early '80s, with the albums Songs the Lord Taught Us and Psychedelic Jungle. Many clips of the Cramps' chaotic live shows from the era can be found online; look for their version of "Tear It Up" from the 1980 film "URGH! A Music War." One memorable (and typical) show in Boston in 1986 found Interior, clad only in leopard-skin briefs, drinking red wine from an audience member's shoe, and ended with him French-kissing a woman (who wasn't his wife) for 10 full minutes with his microphone in their mouths.
Due to their imagery, obsession with kitsch and dogged dedication to touring — they wrapped up their latest jaunt across Europe and the U.S. this past November — the Cramps commanded a loyal fanbase, and even earned a spot in the Rock and Roll Hall of Fame, in the form of a shattered bass drum that Interior had shoved his head through."
(Hey — we don't mind cribbing notes from MTV, because they're assholes.  Do you think they ever played The Cramps in the past twenty-years?   Or The Stooges, or Teenage Head?  Or even mentioned them?  We here at Pogo H.Q. got our taste of it when we tried to drum up interest in The Last Pogo dvd release.  We were stonewalled and duffed off with an assistant chuckled "Uh, what?  You want us to cover a thirty year old film by a fifty-three-year-old guy?  Riiiiiight.")
But enough about us.  Well, okay maybe a bit more about us.  To trace back the threads of Lux's death to The Last Pogo Jumps Again in a kind of Kevin Bacony six-degrees-of-separation thing:  a decade after finishing The Last Pogo, in 1990, co-director Colin Brunton produced his second feature film, Highway 61 (on the heels of producing Roadkill with director Bruce McDonald, and with a cameo by Joey Ramone) and after securing funding partly on the basis that Iggy Pop was going to play a character, was flabbergasted and majorly pissed-off when Iggy reneged at the last minute.   The film that swelled Iggy's head was a part n a John Waters movie.  Back in 1976, a couple of years before The Last Pogo legendary Toronto Promoter Gary Topp of The Garys called up filmmaker John Waters after watching Amos Poe's Blank Generation and Night Lunch at the New Yorker in 1976 and urged him to check out this new thing called punk rock.  A month later and the Ramones would be playing the New Yorker;  two years later Waters would cast the late and legendary Dead Boys lead singer Stiv Bators as Bo-Bo Belsinger in Polyester starring Divine, and years later Iggy Pop in Crybaby.
Back to 1990 and Highway 61.  After Iggy dropped out, Brunton went into a frenzy of letters, faxes, and phone calls and tried to come up with someone —  anyone — who could replace Iggy, and who had enough street cred, and who would fit in — and hope it got the Highway 61 team out of the jam.  (The day the news that Iggy was dropping out happened, the producers got a call from the BBC, who were putting up some of the money.  After "How are you?" and "How's everything going?" it was all  "And you've still got Iggy Pop in the film, is that right?" and we're all like "…there might be a scheduling problem, gotta go!"   They had two weeks to get out of the mess, and if the BBC money fell through because they didn't have a "name", the rest of the financing would tumble like dominoes, and not only would we they be in a world of hurt, money-wise, but boy, would their faces be red!
The Highway 61 wish list to replace Iggy at the last minute was The Cramps'  Lux Interior, The Sex Pistol's Johnny Rotten and Joey Ramone — but Joey was busy, and Lux and Johnny Rotten could not be found, no way no how.   They got turned down by the likes of David Byrne, Keith Richards (touring with some other middle-aged guys that summer) Alice Cooper (who was flattered but booked), Elvis Costello (booked for the next three years), and Ozzy Osbourne (who sent a charming note with genuine Ozzy stationary explaining that "It's hard enough being a rock star let alone trying to become an actor")  and ended up casting Canadian Art Bergmann, who was on the original cast wish list before they'd thought of "star power" like Iggy.  And Art is still alive 'n' kicking on the west coast, and he did a great job.
R.I.P. Lux, and The "Black" Donnellys, the infamous family from Lucan, Ontario who were beaten to death by a gang of thirty men — in part organized by the town priest and local constable — at the stroke of midnight on this day in 1880.  Lux Interior, meet Tom Donnelly, Canada's first punk.  Tom, meet Lux.