David Quinton of The Mods, June 6 '08;  photo by Jean Trivett
Hey, David, what's up with that cool t-shirt?  David says, via his MySpace page:  "This T-shirt was made by me and my kids – the names of all my favourite drummers are printed all over the front! Ready? Here they are…see how many of their bands you can name (no cheating):
Aynsley Dunbar, Jerry Shirley, Keith Moon, Richard Starkey, Bev Bevan, Richard Hughes, Jim Fox, Kenny Jones, Gary McCracken, Rat Scabies, Clive Bunker, John Weathers, Jim Bonfanti, Mike Gibbins, Ginger Baker, Bun E Carlos, Neal Smith, Paul Thompson, Corky Laing, Mike Tucker, Paul Cook, Billa Ficca, John French, Prairie Prince, Ian Paice, Don Powell and Dale Griffin."
Quite the list.  And who is conspicuous in their absense?  David Quinton, yo.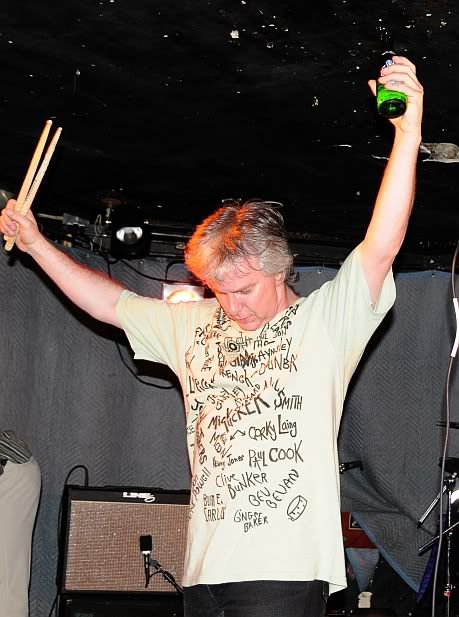 Greg Trinier of The Mods;  photo by Jean Trivett
Greg Dick of The Ugly, June 6 '08; photo by Jean Trivett
Another one of those great "we're doing this 'cause it's fun" gigs with The Mods and The Ugly at Sneaky Dee's in Toronto last Saturday to a packed house of a couple of hundred.   And what the audience and fans of those two seminal Toronto bands know is that even back in the day they did it all for fun.  For sure everyone hoped for the proverbial fame and fortune, but it was — and still is — essentially all about the Art and Lifestyle and Teenage Kicks.